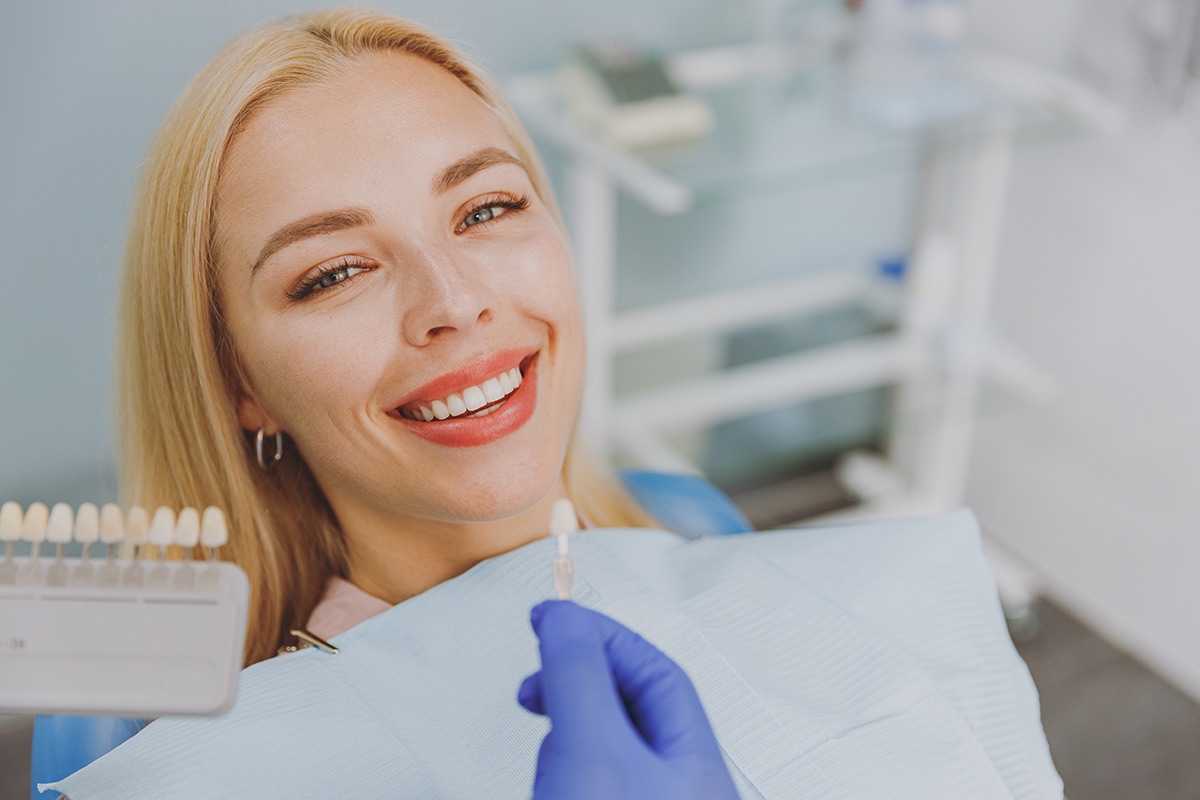 Cosmetic Dentistry
Though your oral health is vital, good dentistry is not just about preventing and treating dental problems. It's also about giving you a beautiful smile you feel confident to share. That is why Dr. Deborah Fung and her team at Designing Smiles offer a full range of cosmetic treatments to meet all goals and budgets. With our advanced technology and Dr. Fung's skill with design, you are sure to enjoy a stunning smile and a big boost of confidence.
Teeth Whitening
Teeth whitening is conservative and affordable, yet it can have truly transformative results. Peroxide-based whitening gel breaks down dental stains to give you a smile that is noticeably brighter and more youthful. It is a great way to treat stains from food, coffee, tea, and simple aging. Teeth whitening is safe and low-risk. Results can last several years.
Porcelain Veneers
Porcelain veneers can give you that "Hollywood smile" you've always dreamed of. By applying porcelain shells to the front of your teeth, Dr. Fung can cover up internal discoloration and structural abnormalities. She can also use veneers to close gaps that are not big enough for orthodontic treatment. Before placing veneers, Dr. Fung will reshape your teeth and trim off some enamel. Then, with digital impressions, she can design stunningly realistic veneers.
Dental Bonding
Dental bonding is a conservative alternative to veneers. Bonding addresses many of the same concerns, but instead of attaching porcelain, Dr. Fung will apply composite directly to your teeth. Bonding does not require any tooth prep or enamel removal. It also costs less than veneers. At the same time, composite doesn't usually last as long as porcelain, and it doesn't have the same realistic sparkle.
Tooth Contouring
If you have proportionately large or irregularly shaped teeth, you may be a candidate for tooth contouring. During this procedure, Dr. Fung will remove a small amount of enamel. She will address only the outermost layer of your teeth, so the procedure is discomfort-free. Typically, patients do not even need local anesthesia.
In addition to improving your appearance, tooth contouring can also have advantages for your oral-systemic health. For example, by evening your teeth, Dr. Fung can improve the force of your bite and reduce pressure on your jaw joints.
Gum Contouring
Proportionately small teeth may actually be caused by excess gum tissue. In these cases, a simple gum contouring procedure can give you a bigger and brighter smile. Gum contouring can also correct an uneven or ragged gum line.
Similar to tooth contouring, Dr. Fung will trim off a tiny amount of gum tissue. She uses the Biolase® diode laser, which is extremely precise, has less impact on the gums, and helps to prevent inflammation.
BOTOX®
BOTOX can reduce fine lines and wrinkles, including forehead wrinkles and crow's feet. BOTOX contains a purified version of the toxin Clostridium botulinum. The injections block nerve signals to certain areas, paralyzing the muscles and preventing the habitual movements that cause wrinkles. When placed by an experienced practitioner, BOTOX is safe, natural-looking, and allows for normal facial expressions.
Contact Us to Enjoy a Rejuvenated Smile
Whatever your goals, we want to make your dream smile a reality. To schedule your cosmetic consultation, contact us online or give us a call at (651) 636-2143. We serve patients from Roseville, St. Paul, Minneapolis, New Brighton, Arden Hills, and Shoreview.